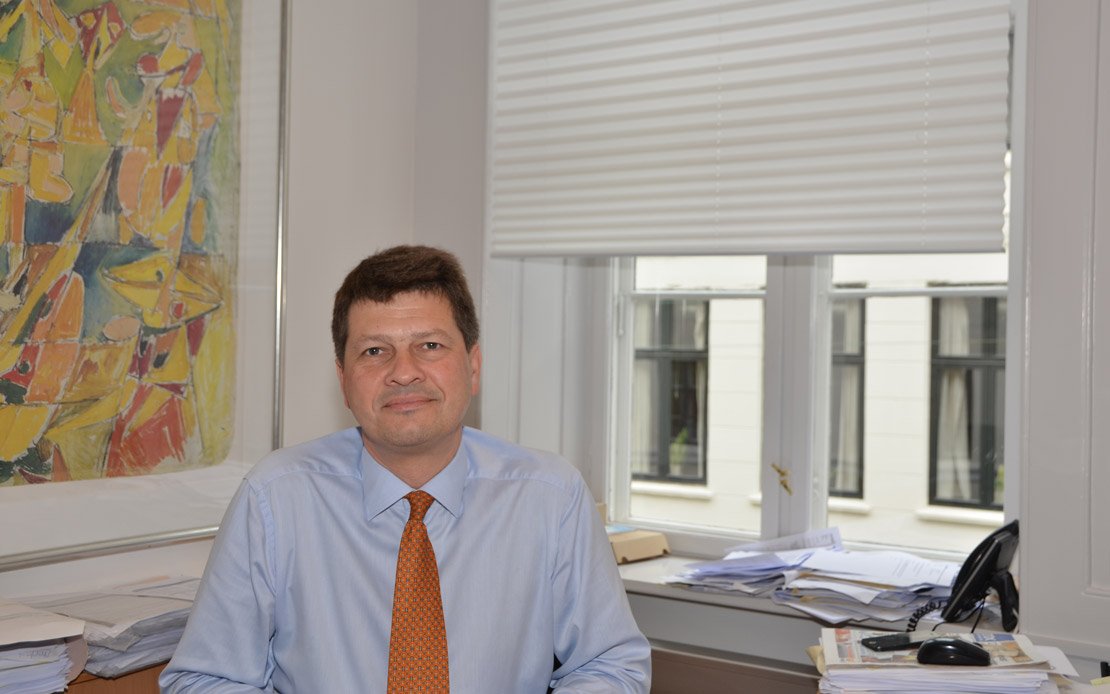 1988 – Masters of Law, Copenhagen University
1989 – Appointed Captain by the Ministry of Defence
1991 – Appointed Barrister by the Ministry of Justice
1991 – Admitted to the High Court
2011 – Admitted to the Supreme Court
Liability Insurance at Tryg policy 674-21.013.
Client's bank account at Nordea and Danske Bank.
Maximum coverage 100.000 € for total deposits (client's funds and lawfirm's funds). Maximum coverage 10.000.000 € for deposits related to non commercial real estate. See Guarantee Fund: www.tryg.dk.
Due to the current interestlevel in Denmark we refer the right to claim refund of negative interests and bankfees claimed by our bankconnection, when larger funds has been deposited in our generel or separate clients account for more than a few days.
The Lawfirm keep clients files in our safe storage in our premises for 5 years after the case has been closed in order to honour the Danish Law on limitation regarding liability for legal advice and regarding the obligation to keep annual reports and financial documentation for 5 years, while acknowledging the new EC-regulation about keeping personal data information for maximum 5 years afther the information was received and used. In criminal cases the whole file is delivered for destruction at the Copenhagen City Court, when the case including claims on personal injury and other damages to property has been decided finally. This applies likewise on digitally received files, whehter it is written, oral, photos or video material.
Due to the fact that judgements on economical claims or other legal documents concerning economical claims only are void after 10 years according to the Danish Law on limitation and with reference to claims regarding real estate likewise can be valid up to 10 years from the contract was signed, we advice our clients in such cases to request for the original documents, when a case is closed, as the lawfirm take no responsibility to keep files or any documents after 5 years due to the new regulation on personal data from EU.
Scandinavian Languages
Fluent in written and oral English
Speak and write in French and German
BUSINESS INFORMATION:
Advokatfirmaet Finn Roger Nielsen
CVR: 26711630
FINN ROGER NIELSEN – FIELD OF ACTIVITY:
Real Estate, Environmental law, medical law, compensation for damages and personal injuries, tax law, labour law, tenants' rights, license-, agent- and distributor agreements, industrial rights, economical crime, military criminal law and humanitarian law, human rights and good governance, transferral of private business and restaurants. Cooperation with the Danish society for Danish motorcar owners regarding violation of traffic law, insurance questions and commercial law and products liability, assisting various car firms with legal advice. Administration of real estate and providing legal assistance to owners communities in apartment buildings.
CONTACT INFORMATION
Email: fr@minervaadv.dk
Phone: (+45) 33 38 16 33
Address: Skindergade 38, 1. 1159 Kbh. K (Entrance from parking lot, Dyrkøb 5)
MEMBERSHIP: The Danish Society for environmental law, Danish Mediation Lawyers and the Danish Peace and Stability Cooperation within EU at the Ministry of Foreign Affairs.
BRIEFLY ABOUT BARRISTER FINN ROGER NIELSEN:
Barrister Finn Roger Nielsen is the owner of an independent law firm in cooperation with other independent law firms under the mutual name Minerva Law Firm.